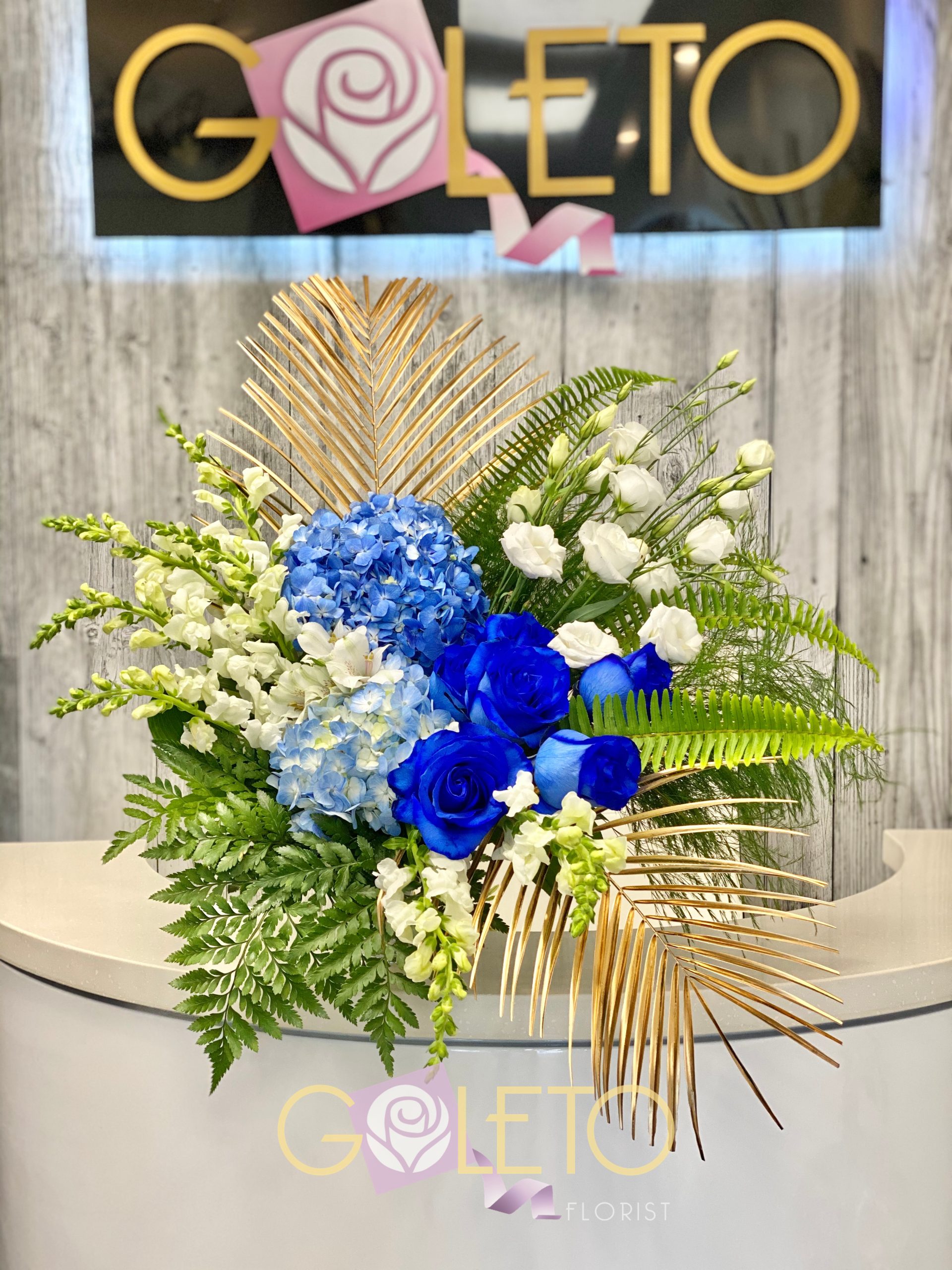 A flower arrangement to remember
Are you looking for a floral arrangement to decorate your home or office? Then you must take a look at this. It is one of the most colourful floral arrangements that you will ever come across.
Imagine the positive impression that you can create on the minds of all visitors and employees who come to your office by keeping this floral arrangement on top of the reception table? It will add colour to the surroundings as well. Getting this flower arrangement from our flower should be a quick and easy method available for you to enhance the look and feel of any area with ease.
This flower arrangement offered by Goleto Florist represents a fresh start and positive energy. Any person can take a look at the flower arrangement as the first thing in the day. If you do it, you will be able to get a cheerful mood. In fact, it can deliver the fresh start that you can get for the day. You can unwind your mind and ensure that you are flooded with positive energy. This positive energy will deliver all the support and assistance you need to cater to your daily goals. That's why we encourage you to have this flower arrangement near the reception so that all the people who come into the office will be able to fill themselves up with positive energy and walk-in.
You can also buy this flower arrangement and give it to someone as a gift. It will be a perfect gift to impress someone. You can find numerous colourful flowers in the floral arrangement, which can speak directly to someone's mood. All the flowers are arranged perfectly well by the florist to evoke emotions as well. Hence, you will never regret the decision to buy this floral arrangement and give it to someone as a gift.
This flower arrangement is made out of local, fresh and seasonal flowers. They contribute a lot towards the good looking appearance of the flower arrangement and the ability that it has to speak to your emotions. These are the most beautiful flowers that you can find in your surroundings. The florist carefully picks up the flowers, and the flower arrangement is crafted perfectly well to deliver a unique and fascinating experience.
The layering of the flowers is something unique that you can find in this flower arrangement. You can see how the flower shop has been able to create a base with greenery and then add the focal points with flowers accordingly. Every single space of the flower arrangement is filled up perfectly well. Hence, you can secure delivering a satisfying experience to anyone who comes across it. Attention to detail has been paid at the time of designing the flower arrangement as well. This is a perfect example of an ideal flower arrangement that you can discover.
Since the flower arrangement is made out of natural flowers, you will need to take good care of it after purchasing it. For example, you will have to sprinkle water to the flowers daily and keep them refreshed. You should ensure that the flowers will always remain refreshed, depending on your environment.
The flower arrangement will come to you with a sturdy base as well. This is a clean and elegant looking vase, which is made out of bronze. The vase contributes heavily towards the good look and feels that you will receive out of the floral arrangement.
If you want to impress someone or add colour to an indoor space, you should go ahead and buy this flower arrangement from our flower shop. Our team at Goleto Florist will deliver it to you exactly as it is shown in the image. We will never lead you to any surprises with this good looking flower arrangement. Go ahead and look at the other flower arrangements that we have in our flower shop. We have something for everyone!
Please visit our flower arrangement to view more sample or our unique flower arrangements. https://www.goleto.ca/portfolio-item/special-events-arrangements-flowers/
Call or visit our store we gladly provide you with tips and advice for your next event. Don't forget to visit our Instagram https://www.instagram.com/goleto_florist/